Read the text about friendship and best friend.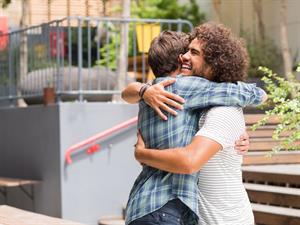 Friendship and my best friend.

According to the dictionary friendship is a feeling and behaviour that exists between people, but what these feelings are and what this behaviour is everyone should decide for himself. I consider that friendship is a gift from the God. That's why I highly appreciate it. I think it is hard to find a close friend because people are unique creatures of nature, all of them have their own habits, opinions and judgments which differ from others.

As for me, I'm happy to have lots of friends, some of them are close, some are less, but all of them make my life interesting and enjoyable and I can't imagine my life without them, because friendship means very much for me. Being friends means making allowances for the other person's faults, being tolerant to each other moods. The most important thing about friends for me is being able to share secrets and problems.

But in my opinion it isn't an easy thing to be a true friend and before somebody can name you his best friend you should prove your friendship. Everyone can have only one or two true friends, because a friend to all is a friend to none. I believe that a faithful friend can brighten your life and make it more interesting, vivid and enjoyable. You are interested in your friend with all his positive and negative traits of personality and your friend in his turn can understand and forgive you everything.

What about me, I have known my best friend Natasha almost all my life, but I can never forget our first meeting. It was in summer when our families decided to rest in the south together. When we drove up to their house, my attention was attracted by a little tidy girl in a rose dress, who was sitting and playing with her long blonde curl, but I can't say that my first impressions were the same as my opinion about her now, because when we meet people for the first time we always make a judgment based on their appearance though the proverb tells us not to make such a mistake.
At first ,she seemed to me so correct, obedient and shy that I didn't like her, but when we began to communicate closer I understood I was mistaken. I think it makes a sense to say that when we returned home we were loyal friends.

Today she has changed a lot but we are still best friends and now I think Natasha is a very charming and pretty seventeen-year-old girl. She isn't tall and I can't even say that she is of average height but she is always smart and elegant. Natasha has an attractive face which is broaden with open and frank features.My friend likes casual clothes. Natasha hates skirts and formal blouses, but adores tight-fitting trousers and casual T-shirts. She prefers low-heeled shoes to high-heeled, because they are more comfortable.

It's true that Natasha is a very enthusiastic and active person, you can hardly find her sitting at one place without doing anything but in spite of it she constantly has no free time. My friend is a wonderful person and an optimist; she is never bored but always smiles and laughs, that is why I like her fascinating smile very much.
I believe that friendship should be sincere. In my opinion your friend should be attentive to you, he or she should be reliable, honest and he or she should trust you.

As for our friendship, I'm sure it is strong enough because we trust each other, we always share the same joys and troubles together and we support each other at difficult times.
Write only one word into each sentence.
1.
The writer is happy to have lots of friends, some of them are close, some are less, but all of them make her life interesting and
.
2.
The writer thinks that it makes a sense to say that when they returned home they were
friends.
3.
They always share the same joys and troubles together and we support each other at difficult
.
http://www.native-english.ru/
Lai iesniegtu atbildi un redzētu rezultātus, Tev nepieciešams autorizēties. Lūdzu, ielogojies savā profilā vai reģistrējies portālā!