Watch the next part of the video. Then read and learn about Trafalgar Square and Westminster Abbey.
(Noskaties nākamo video daļu! Tad lasi un mācies par Trafalgāra laukumu un Vestminsteras abatiju!)
Trafalgar Square

is a public square in the City of Westminster, Central London, built around the area formerly known as Charing Cross. Its name commemorates the Battle of Trafalgar, the British naval victory in the Napoleonic Wars over France and Spain that took place on 21 October 1805 off the coast of Cape Trafalgar.
The site of Trafalgar Square had been a significant landmark since the 13th century and originally contained the King's Mews. After George IV moved the mews to Buckingham Palace, the area was redeveloped by John Nash, but progress was slow after his death, and the square did not open until 1844. The 52-metres

Nelson's Column

at its centre is guarded by four lion statues.
The square has been used for community gatherings and political demonstrations, including Bloody Sunday in 1887. A Christmas tree has been donated to the square by Norway since 1947 and is erected for twelve days before and after Christmas Day. The square is a centre of annual celebrations on New Year's Eve.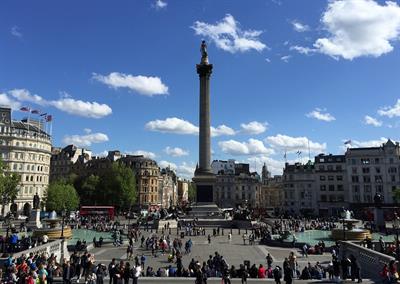 Trafalgar Square
— [ˈtrəˈfælɡər.skweər] —
Trafalgāras laukums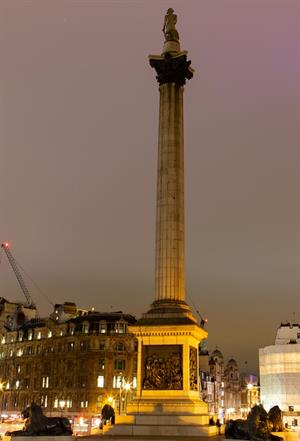 Nelson's Column — [ˈnel.sʌnsˈkɒl.əm] — Nelsona kolona
Westminster Abbey
, formally titled the
Collegiate Church of Saint Peter at Westminster
, is a large, mainly Gothic abbey church in the City of Westminster, London, England, just to the west of the Palace of Westminster. It is one of the United Kingdom's most notable religious buildings and the traditional place of coronation and burial site for English and, later, British monarchs. The building itself was a Benedictine monastic church until the monastery was dissolved in 1539. Between 1540 and 1556, the abbey had the status of a cathedral. Since 1560, the building is no longer an abbey or a cathedral, having instead the status of a Church of England "Royal Peculiar" – a church responsible directly to the sovereign.
According to a tradition first reported by Sulcard in about 1080, a church was founded at the site in the seventh century, at the time of Mellitus, a Bishop of London. Construction of the present church began in 1245, on the orders of King Henry III.
Since the coronation of William the Conqueror in 1066, all coronations of English and British monarchs have been in Westminster Abbey. There have been 16 royal weddings at the abbey since 1100. As the burial site of more than 3,300 persons, usually of prominence in British history (including at least sixteen monarchs, eight Prime Ministers, poets laureate, actors, scientists, military leaders, and the Unknown Warrior), Westminster Abbey is sometimes described as 'Britain's Valhalla', after the iconic burial hall of Norse mythology.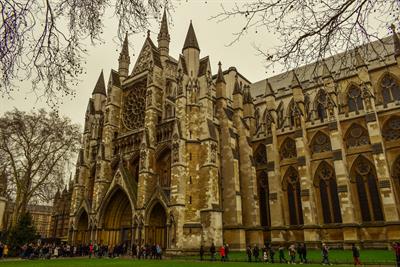 Westminster Abbey — [westˈmɪn.stərˈæb.i] — Vestminsteras Abatija
https://www.youtube.com/watch?v=qaBZPI7If14
https://www.visitlondon.com/