Watch the next part of the video. Then read and learn about the Millennium Bridge and Shakespeare's Globe.
(Noskaties nākamo video daļu! Tad lasi un mācies par Tūkstošgades tiltu un Šekspīra Globusa teātri!)
The
Millennium Bridge
, officially known as the London Millennium Footbridge, is a steel suspension bridge for pedestrians crossing the River Thames in London, linking Bankside with the City of London. Construction began in 1998, and it initially opened in June 2000.
Londoners nicknamed it the "Wobbly Bridge" after pedestrians experienced an alarming swaying motion on its opening day. The bridge was closed later that day and, after two days of limited access, it was closed again for almost two years so that modifications and repairs could be made to keep the bridge stable and stop the swaying motion. It reopened in February 2002.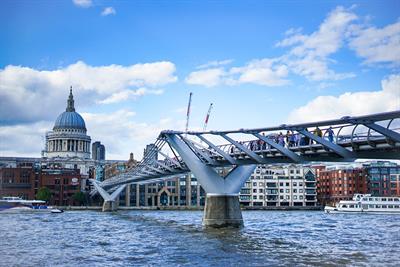 Millennium Bridge — [mɪˈlen.i.əm.brɪdʒ] — Tūkstošgades tilts
Shakespeare's Globe
is a reconstruction of the Globe Theatre, an Elizabethan playhouse for which William Shakespeare wrote his plays, in the London Borough of Southwark, on the south bank of the River Thames. The original theatre was built in 1599, destroyed by fire in 1613, rebuilt in 1614, and then demolished in 1644. The modern Globe Theatre is an academic approximation based on available evidence of the 1599 and 1614 buildings. It is considered quite realistic, though modern safety requirements mean that it accommodates only 1,400 spectators compared to the original theatre's 3,000.
Shakespeare's Globe was founded by the actor and director Sam Wanamaker, built about 230 metres from the site of the original theatre and opened to the public in 1997, with a production of Henry V.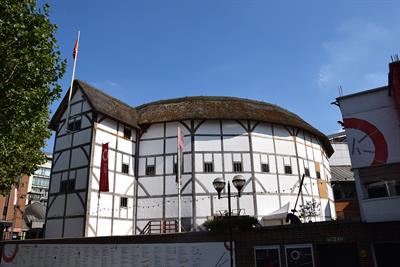 Shakespeare's Globe — [ˈʃeɪk.spɪərzˈɡləʊb] — Šekspīra Globusa teātris
https://www.youtube.com/watch?v=qaBZPI7If14
https://www.visitlondon.com/