Read the information, listen and learn words and expressions about the symbols of New Zealand.
(Lasi informāciju, klausies un mācies par Jaunzēlandes simboliem!)
Mitre Peak (Māori Rahotu)
Mitre Peak
is a mountain in the South Island of New Zealand, located on the shore of Milford Sound. It is one of the most photographed peaks in the country and one of the country's most popular tourist destinations. Part of the reason for its iconic status is its location. Close to the shore of Milford Sound, in the Fiordland National Park in the southwestern South Island, it is a stunning sight. The mountain rises near vertically to 1,690 metres from the water of Milford Sound, which technically is a fjord. The peak is actually a closely grouped set of five peaks, with Mitre Peak not even the tallest one, however from most easily accessible viewpoints, Mitre Peak appears as a single point.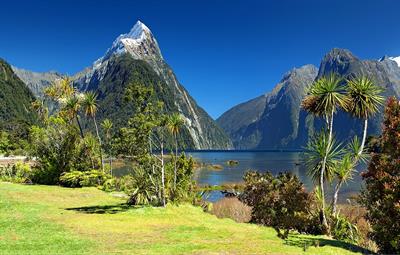 Mitre Peak
— [ˈmaɪ.tər ˌpiːk] —
Mitres virsotne
Pāua
is the Māori name given to three species of large edible sea snails, known in the United States and Australia as
abalone
, and in the United Kingdom as
ormer shells
.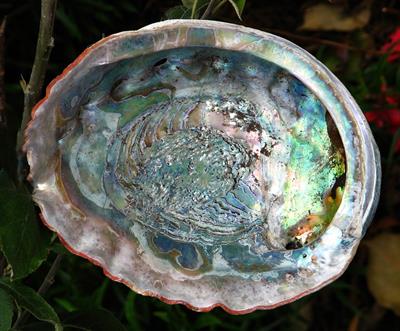 abalone — [æb.əˈləʊ.ni] — pērļgliemene
The film trilogy (and the subsequent The Hobbit trilogy) highlighted New Zealand's natural scenery and is widely associated with the country worldwide. The
Hobbiton
Movie Set was a significant location used for The Lord of the Rings film trilogy and The Hobbit film series. It is situated on a family run farm about 8 kilometres west of Hinuera and 10 kilometres southwest of Matamata, in Waikato, in the middle of the North Island, and is now a Tolkien tourism destination, offering a guided tour of the set.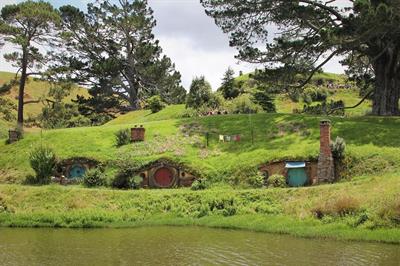 Hobbiton — [ˈhɒb.ɪtən] — Hobitona
Pavlova
is a
meringue
-based dessert named after the Russian ballerina Anna Pavlova. It is a meringue cake with a crisp crust and soft, marshmallow centre, topped with whipped cream and fruit. Its country of origin is widely contested by New Zealand and Australia.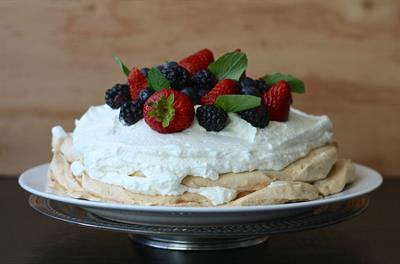 pavlova — [pævˈləʊ.və] — kūka "Pavlova"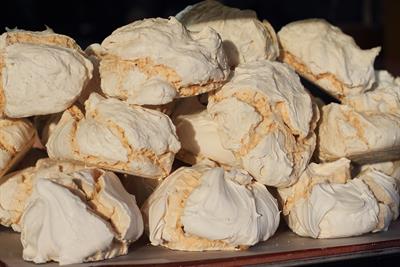 meringue — [məˈræŋ] — olbaltuma cepumi (bezē)
Pounamu or "greenstone" are several types of hard and durable stone found in southern New Zealand.
Nephrite
jade, highly valued by Māori both physically and spiritually.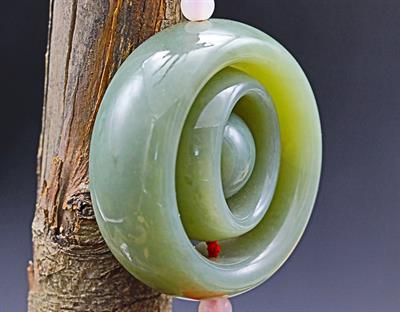 nephrite — [nɪˈfraɪ.t] — nefrīts
The
Sky Tower
is a telecommunications and observation tower in Auckland, New Zealand. It is 328 metres tall, as measured from ground level to the top of the mast, making it the tallest freestanding structure in the Southern part of the world and the 25th tallest tower in the world. It has become an iconic landmark in Auckland's skyline due to its height and unique design. The tower is part of the SkyCity Auckland casino complex, originally built in 1994–1997 for Harrah's Entertainment. Several upper levels are accessible to the public, attracting an average of 1,150 visitors per day.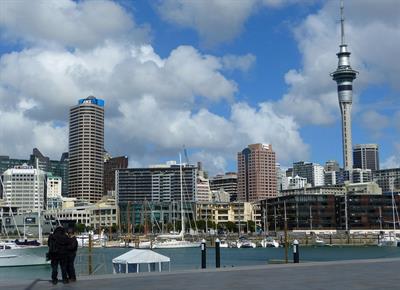 the Sky Tower — [ˌskaɪ ˈtaʊər] — Debesu tornis
https://www.newzealand.com/
https://www.hobbitontours.com/
https://skycityauckland.co.nz/sky-tower/